This level occupies the map slot MAP22. For other maps which occupy this slot, see Category:MAP22.
For the standalone version of this level, see Thematic Elements.
MAP22: Thematic Elements is the twenty-second map of Community Chest 2. It was designed by Thomas Lutrov (Lutrov71) and Kimmo Kumpulainen (Jimi), with Lutrov building the architecture and Kumpulainen implementing the gameplay. It uses the music track "Nobody Told Me About id" from Doom, and was originally released standalone.
Walkthrough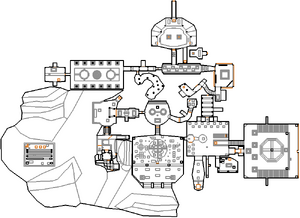 Letters in italics refer to marked spots on the map. Sector numbers in boldface are secrets which count toward the end-of-level tally.
Essentials
Other points of interest
Secrets
At the bridge over the nukage river, look to the south to find a nukage fall. Walk through it to find a blur artifact. (sector 109)
In the northwest room with the blue door, the marble face carving at the north can be opened to reveal a soul sphere, four rocket boxes, a bulk cell, and a troupe of Arch-Viles. (sector 85)
In the same room as secret #2, the demonic face carving at the south can be opened as well, unveiling combat armor, a box of ammo, a rocket box, two bulk cells, and a group of Barons of Hell. (sector 96)
Behind the stairway with the yellow key switch, you can find combat armor. (sector 324)
At the top level in the southeast metal room, there is a step you can use to climb onto the railing. After you do so, move just slightly north of its center, and drop off its west side onto the pillar below to trigger this secret and obtain a blur artifact. (sector 836)
At the well where you find the yellow key, the southern side's texturing is aligned differently than the rest. Press on it to access a series of pillars with a medikit, a box of shells, a box of ammo, a box of rockets, and a bulk cell, in that order. This secret actually consists of six sectors, including the lowering railing and each individual pillar, all marked as secret. Note that to trigger the secret on the railing, you must wait in the space the railing occupied until it rises again. (sector 551)
See above. (sector 552)
See secret #6. (sector 553)
See secret #6. (sector 554)
See secret #6. (sector 555)
See secret #6. (sector 695)
Lowering the railing in secret #6 will also cause a brick pillar to lower temporarily, allowing you to obtain a berserk pack. (sector 556)
Lowering the railing in secret #6 will also lower the pillar the Baron of Hell stands on at the southeast, letting you get twelve armor bonuses. (sector 527)
Bugs
Demo files
Areas / screenshots
Speedrunning
Routes and tricks
Current records
The records for the map on the Doomed Speed Demos Archive are:
Miscellaneous demos
| Run | Time | Player | Date | File | Notes |
| --- | --- | --- | --- | --- | --- |
| | | | | | |
Deathmatch
Statistics
Map data
Things
Technical information
Inspiration and development
Trivia
See also
Sources
External links