Ad blocker interference detected!
Wikia is a free-to-use site that makes money from advertising. We have a modified experience for viewers using ad blockers

Wikia is not accessible if you've made further modifications. Remove the custom ad blocker rule(s) and the page will load as expected.
This level occupies the map slot MAP25. For other maps which occupy this slot, see Category:MAP25.
MAP25: Forgotten City is the twenty-fifth map of the megawad Scythe 2. It was designed by Erik Alm and uses the music track "Intolerance" from Seiken Densetsu 3. It is the last map of the earth jungle episode.
Strategy
At the start of the map you are facing the problem that a Cyberdemon is standing right behind you, while a large horde of Mancubi and Chaingunners is waiting in front of you. Especially at higher skill levels it might prove useful to avoid alerting the Cyberdemon and instead cause infighting to ensue between the Cyberdemon and the other enemies, as there is only a small number of powerups to help you survive the fight otherwise. Even though that might cost some health points (mainly due to the overwhelming number of hitscan enemies you have to face), the Cyberdemon will be able to clear a huge part of the area that lies before you, while at the same time it will take a considerable amount of damage itself, weakening it.
[[Image: |thumb|300px|Map of **]]

Walkthrough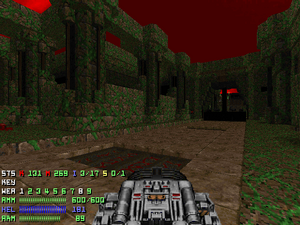 Secrets
From the starting point, take the right route (i.e. the one eventually leading to a large hexagonal opening in the wall with a Mancubus standing inside it). Follow it until you reach the first wooden door there, open it and walk up the stairs. There you should see a pool, with a pillar-like structure the middle. Now to your left there is a wall with a demonic face on it and a small candle in front of it: Hit it with your use/open key (default: space); that will cause the aforementioned pillar to lower (Reward: Plasma Rifle)
Speedrunning
Routes and tricks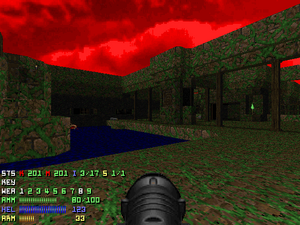 Records
The Compet-N records for the map are:
Statistics
Map data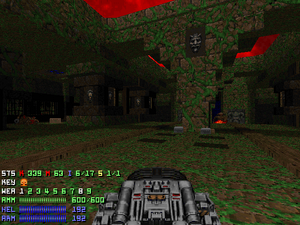 Things
Trivia
See also
External links