Ad blocker interference detected!
Wikia is a free-to-use site that makes money from advertising. We have a modified experience for viewers using ad blockers

Wikia is not accessible if you've made further modifications. Remove the custom ad blocker rule(s) and the page will load as expected.
This level occupies the map slot MAP27. For other maps which occupy this slot, see Category:MAP27.
MAP27: Afterlife II is the twenty-seventh map of the megawad Scythe 2. It was designed by Erik Alm and uses the the first part of the music track "Dancing Mad" from Final Fantasy VI.
Strategy
[[Image: |thumb|300px|Map of **]]

Walkthrough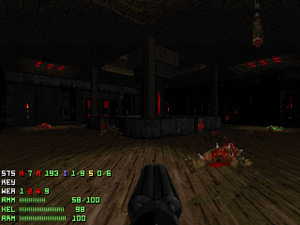 Secrets
When you start the map and make it to the middle point of the first main big area where u see the Yellow-SkullKey, from here u can take 2 ways left or right, take the right route, now you will see a big hell section and to your right side a Invulnerability sphere, now u can go over the wall to the right where the sphere is using the red floor sections on the floor (Reward: Invulnerability Sphere)
Continueing from 1. this time go into the hell area, to your left you will see a set of red pillars go up these until you reach the top *Note: not the ones on the right side that leads up to the top* (Reward: Medikit and a Bulk Cell)
Once you make it outside through the stone door, from here go to your left, there should be a ledge on the left with a Cyberdemon on it and to the right a small lava-fall area with a switch, you can go trough this lava fall which takes u to the ledge where the Cyberdemon is (Reward: Rocket Launcher)
From 3. continue playing the map until you gain access to the last area of the map the road to Blue-SkullKey, at the start of this route, u go up a small set of stairs and in the middle of the first room u go in is a stone pillar with a Blue armor on top, in this room you see Red-Torches on the walls, but one of em is Blue,use your "use/open" key on this torch which will lower the pillar (Reward: Blue Armor)
Continueing from 4. going up the second set of stairs where a Cyberdemon ambush comes, and from there u go up another set of short stairs, once here to your left in the corner is a fake stone wall that can be opened (Reward: Soul Sphere)
Continueing from 4./5. keep playing until you reach the hell area, in here there are two lava falls that lead down to the big outside area, dont go down there instead you can go trough one of the Lava falls *one on the right* (Reward: Megasphere, box of rockets,Bulk cell)
Speedrunning
Routes and tricks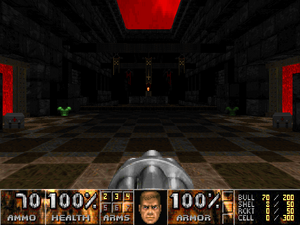 Records
The Compet-N records for the map are:
Statistics
Map data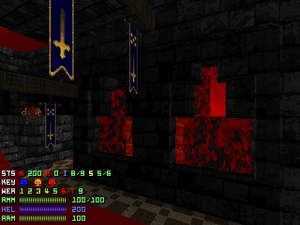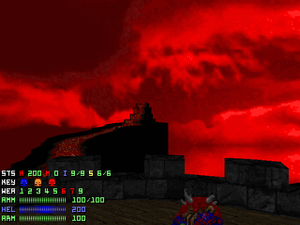 Things
Trivia
See also
External links