MAP27: Mount Pain (TNT: Evilution)
Talk

8
3,228pages on
this wiki
This level occupies the map slot MAP27. For other maps which occupy this slot, see Category:MAP27.
MAP27: Mount Pain is the twenty-seventh map of TNT: Evilution. It was designed by Drake O'Brien and uses the music track "Into the Beast's Belly".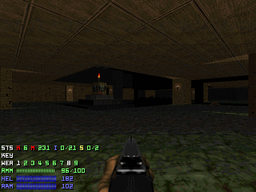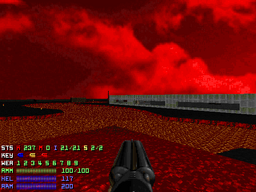 Statistics
Edit
Walkthrough
Edit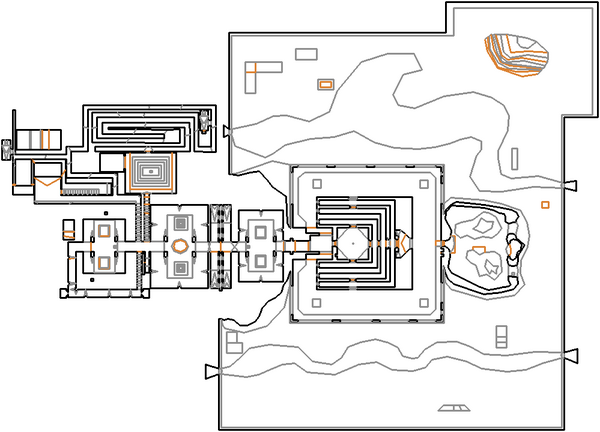 From the start of the level go west and turn left to the first corridor leading south. Open the middle part of the western wall to find some health bonuses.
In the east part of the long spiral corridor filled with slime, there is a room with the impaled twitching body. Open the south wall of the room to find a radiation suit and a computer map.
It is possible to get stuck in the alcove housing the yellow key. The outside of the door is type 117 "PR; fast; Open, Wait, Then Close" but the inside is 118 "P1; fast; Open and Stay Open." If you open the door from the outside, go inside, wait for it to close, open it from the inside, and then trigger the outside, it will close and cannot be reopened from the inside again.
In the original DOS version of the game, climbing to the top of the "mount" (with noclip) and turning towards the rest of the level will cause the game to crash due to visplane overflow.
The level presumably gets its name from the mountain-like structure in the far north-east corner of the map, which has several Lost Souls.
Speedrunning
Edit
Routes and tricks
Edit
The Compet-N records for the map are:
External links
Edit