This level occupies the map slot MAP28. For other maps which occupy this slot, see Category:MAP28.
MAP28: No Room is the twenty-eighth map of Community Chest 2. It was designed by Andrew "Linguica" Stine, and uses the music track "Nobody Told Me About id" from Doom.
Walkthrough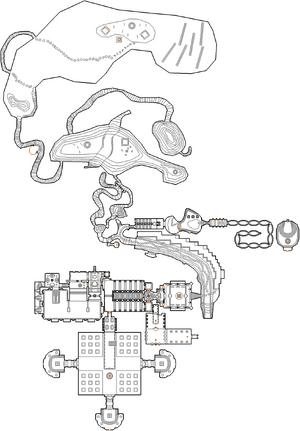 Letters in italics refer to marked spots on the map. Sector numbers in boldface are secrets which count toward the end-of-level tally.
Essentials
Other points of interest
Secrets
In the giant courtyard east of where you begin the level, there are two bodies on the west side hanging from two sections of the wall. The northern one can be passed through. To get there, however, you must have one of the Arch-Viles launch you into that section of wall with their fire attack as you run toward it. If successful, you will find a compartment with a switch. (sector 177) Flipping the switch causes six giant portraits of Adolf Hitler to rise from the floor, four stone plates bearing Nazi flags to lower from the ceiling, a swastika to form in the center of the room, and 16 SS Nazis to start teleporting into the room. Although the switch can be activated from outside the compartment, you must Arch-Vile jump into the compartment to trigger this secret.
In the eastern, winding tunnel in the center of the map, when you reach the giant waterfall, climb to its east side, which has a section you can walk through. Do so to get a computer map. (sector 582)
In the room with the red skull, there is a soul sphere on a small ledge. At the higher floor of the room, head to the east side, align yourself with the demonic face in the south, and drop off the southern edge onto the ledge to get the soul sphere and trigger this secret. (sector 1177)
Bugs
Demo files
Areas / screenshots
Speedrunning
Routes and tricks
Current records
The records for the map on the Doomed Speed Demos Archive are:
Miscellaneous demos
| Run | Time | Player | Date | File | Notes |
| --- | --- | --- | --- | --- | --- |
| | | | | .zip | |
Deathmatch
Statistics
Map data
Things
Technical information
Inspiration and development
Linguica implemented the Barons of Hell on the floating marble cubes with the intent to "thumb [his] nose" at UV max speedrunners.[1]
Trivia
See also
Sources
↑ Linguica: I specifically put in all those barons on the floating cubes to thumb my nose at max speedrunners :P (Community Chest 2 demos at Doomworld. Retrieved on January 26, 2008.)
External links
Ad blocker interference detected!
Wikia is a free-to-use site that makes money from advertising. We have a modified experience for viewers using ad blockers

Wikia is not accessible if you've made further modifications. Remove the custom ad blocker rule(s) and the page will load as expected.