This level occupies the map slot MAP29. For other maps which occupy this slot, see Category:MAP29.
MAP29: Event Horizon is the twenty-ninth map of Community Chest 2. It was designed by Boris Iwanski.
Walkthrough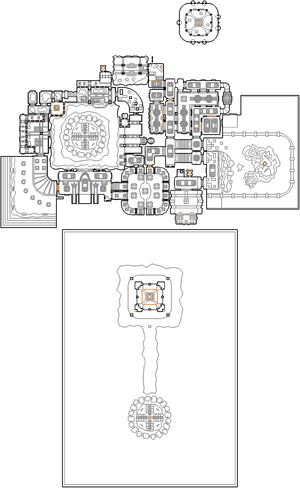 Letters in italics refer to marked spots on the map. Sector numbers in boldface are secrets which count toward the end-of-level tally.
Essentials
Other points of interest
Secrets
When you go down the lift near the beginning of the level, the northern wall has some grating on it. Press it to find a switch. Trigger the switch, head upstairs to the north of the courtyard, and look east to find that the partially-opened door has opened all the way. Navigate your way around the crates until you find combat armor; pick it up to trigger this secret. (sector 123)
At the north of the courtyard, there are a few crates, two of which are small, alongside a large crate. Climb onto the easternmost of the smaller crates, face west, and jump to the other one. Step down to the ledge, and tread it carefully until you reach the end. There, you will find a broken window. Climb through it to access a soul sphere. (sector 1052) Grab it, and two doorways will open.
On your way to the red keycard, you will enter a room filled with crates. Climb up the stairs, walk onto the wide, southwest crate, and jump to the northeast corner. There, you will find a yellow keycard. Take it, and press on the wide, gray crate to exit. At the northwest of the courtyard (west of secret #2,) you will find a yellow keycard-locked switch. Press it to open the nearby door, leading into a room with a dead marine and a BFG 9000, sitting in front of graffiti on the northern wall that reads "boris was here." (sector 1177)
Bugs
Demo files
Areas / screenshots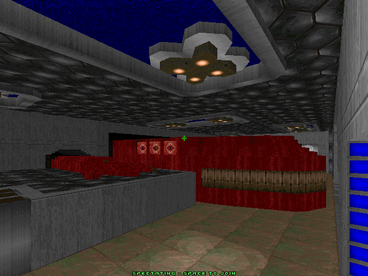 Speedrunning
Routes and tricks
Current records
The records for the map on the Doomed Speed Demos Archive are:
Miscellaneous demos
| Run | Time | Player | Date | File | Notes |
| --- | --- | --- | --- | --- | --- |
| | | | | .zip | |
Deathmatch
Statistics
Map data
Things
Technical information
Inspiration and development
Trivia
See also
Sources
External links
Ad blocker interference detected!
Wikia is a free-to-use site that makes money from advertising. We have a modified experience for viewers using ad blockers

Wikia is not accessible if you've made further modifications. Remove the custom ad blocker rule(s) and the page will load as expected.