MAP29: Odyssey of Noises (The Plutonia Experiment)
Talk

0
This level occupies the map slot MAP29. For other maps which occupy this slot, see Category:MAP29.
MAP29: Odyssey of Noises is the twenty-ninth map of The Plutonia Experiment. The music is "At Doom's Gate".
Odyssey of Noises is one of the most expansive and difficult of the official Doom levels. Like some of Doom II's middle levels, it resembles a city, complete with roads running between the numerous buildings. There are also several lava-filled craters, the biggest one at the south end of the level. Because of the level's layout, it is very unsafe to be out in the open, since you are exposed to attack by monsters sniping from numerous windows almost everywhere in the map.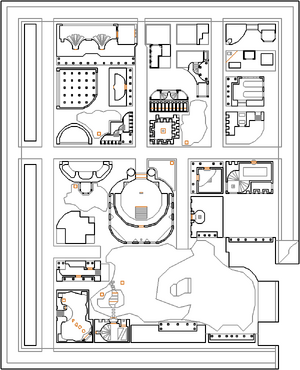 Walkthrough
Edit
After obtaining the red skull key, return to the building you started the level in (the southernmost of the easternmost row of buildings). A secret room will have opened on the back side of it, containing several energy cell packs.
At the platform with the yellow key, run diagonally over the step (barely hitting both the step and the platform), or STRAFERUN directly from the platform, into the opening in the building directly north of it. Inside this alcove is a megasphere.
Screenshots
Edit
Speedrunning
Edit
Routes and tricks
Edit
Kill things.
The Compet-N records for the map are:
Statistics
Edit
External links
Edit