MAP32: Grosse (Doom II)
Talk

3
2,843pages on
this wiki
This level occupies the map slot MAP32. For other maps which occupy this slot, see Category:MAP32.
Doom II levels 31-32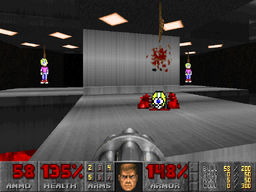 MAP32: Grosse (named keen in Doom 3 BFG Edition) is the second secret map of Doom II and can be accessed from MAP31: Wolfenstein. It was designed by Sandy Petersen and uses the music track "The Ultimate Challenge".
Walkthrough
Edit
Go through the door in front of you to enter a large room with pillars and candles (A), as well as Wolfenstein SS Nazis on Hurt Me Plenty, Ultra-Violence, and NIGHTMARE! skill levels. Travel to the opposite side of this room. Once you get close to the door, a Cyberdemon will open the door and attack (B). Once you have destroyed the Cyberdemon (or escaped from him), enter the room it was in and go through the door on the opposite side (C). Kill all four hanging Commander Keens and the panel behind them will raise (D), revealing the exit switch. Jump across the gap with the sky floor and hit the switch to exit.
This map cannot normally be finished when using the -nomonsters parameter because the hanged Commander Keens are missing. See Kill percentage flag used for -nomonsters and respawning for more details.
This level is named after Hans Grösse, the boss of the corresponding Wolfenstein 3D level.
"Grosse" is German for "huge", but this level is the smallest in the DOOM 2 WADfile.
This level was going to have horizontally sliding doors like the original Wolf3D. The code is still present but commented out.
This level is modeled after the Wolfenstein 3D level E1M9, the boss level of the first episode.
The Music track is called "The Ultimate Challenge" from both Wolfenstein 3D and its prequel Spear of Destiny. This track played on levels E3M9 and E6M9 (notably when you battled Hitler). It was also played on all of the normal boss levels in SoD.
Differences from the original
Edit
As Mentioned before, this level is a replica of the last level of the first episode in Wolfenstein 3-D.
1. When the game was re-released as a part of Doom: Classic Complete. All of the Nazi References are taken out entirely. Even the Wolfenstein SS soldiers are replaced by Zombiemen. The level has also been renamed "Keen".
Speedrunning
Edit
Routes and tricks
Edit
The Compet-N records for the map are:
For a Compet-N contest held in February 2001, a mirrored upside-down version of Grosse called Essorg was created. "Essorg" is "Grosse" written backwards.
Statistics
Edit
External links
Edit
Compet-n contest page (Essorg is contest number 9)
Top-down perspective view of all Doom II levels by Ian Albert