This level occupies the map slot MAP32. For other maps which occupy this slot, see Category:MAP32.
MAP32: Sodding Death is the super secret map of Community Chest 2. It was designed by Chris "Chopkinsca" Hopkins, and uses a MIDI rendition by Rie Lenka of the theme of Quagmire, the fifth level of the SNES game Equinox. It cannot be played under Boom, as it exceeds the 32,768 segs limit, which will cause the engine to crash as the result of a segment violation.
Completing this level takes the player to MAP16: Spirit World HQ.
Walkthrough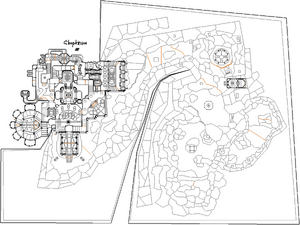 Letters in italics refer to marked spots on the map. Sector numbers in boldface are secrets which count toward the end-of-level tally.
Essentials
Other points of interest
Secrets
In the room where the red key is found, you can climb a segmented waterfall in the northwest corner. At the top, you will find a misaligned wall; press on it to find a hole leading to the waterfall in the room west of it, where you will find a soul sphere. (sector 172) The entrance into this secret is very small, however, so you may have trouble fitting through it.
After you climb up the stairs to the top of the waterfall at the northwest of the map, look to the north to find a misaligned wall. Push it, and it will open to reveal a passageway (sector 308) into the former humans' pillbox, where you can get combat armor.
Once you open access to the switch lowering the barrier around the red key, head back onto higher ground and go to the southwest corner of the room, where the brown borders are missing. Push on it, and a stairway will lower into a tunnel leading to a BFG 9000. (sector 1687)
Bugs
Three hanging bodies in the room where the yellow skull is found (things 34, 675, and 676,) and two of the hanging bodies near the staircase south of where you find the blue key (things 771 and 772,) are all solid, which prevents you from walking under them, even though it looks like there is enough space to do so.
Demo files
Areas / screenshots
Speedrunning
Routes and tricks
Current records
The records for the map on the Doomed Speed Demos Archive are:
Miscellaneous demos
| Run | Time | Player | Date | File | Notes |
| --- | --- | --- | --- | --- | --- |
| | | | | | |
Deathmatch
Statistics
Map data
Things
Technical information
Inspiration and development
Trivia
In the auto-map the name Chopkinsca can be seen referencing the map's creator.
See also
Sources
External links
Ad blocker interference detected!
Wikia is a free-to-use site that makes money from advertising. We have a modified experience for viewers using ad blockers

Wikia is not accessible if you've made further modifications. Remove the custom ad blocker rule(s) and the page will load as expected.