This level occupies the map slot MAP57. For other maps which occupy this slot, see Category:MAP57.
MAP57: The Marshes is a secret map that appears in the PlayStation and Saturn versions of Ultimate Doom , which can be accessed from MAP29: Twilight Descends.
It was designed by Randy Estrella.
Walkthrough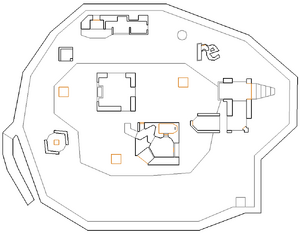 Though this is a large, spread-out level containing a number of areas to explore, the main mission in this stage is to kill a cyberdemon; doing so will unlock the exit.
Secrets
Official
There are no official secrets in this level.
Non-official
1.In the area with the rocket launcher and 6 rocket boxes there are 4 openings; one of which has a small bridge leading to a small area containing a megasphere and a computer map.
2.In the megasphere area there is a skull on the wall. Flip it, walk through and you will be teleported to a small cave containing a BFG 9000. Can also be reached by walking on the border containing 8 rockets.
Bugs
There are no known bugs in this level.
Areas / screenshots
Statistics
Map data
Things
Trivia
This is the only level in any port of Ultimate Doom level that one will find a Super Shotgun.
This stage marks the first time a crushing ceiling is used in PlayStation/Saturn Doom.
There is a trap in this level: if the player uses the teleport which faces the entry area, they are teleported to a special area (which can also be reached by jumping from the Soul Sphere platform) where they cannot escape. Players can eather kill themself (there is a switch that will activate a crushing ceiling if needed) or use the pause menu to retry.
External links
Ad blocker interference detected!
Wikia is a free-to-use site that makes money from advertising. We have a modified experience for viewers using ad blockers

Wikia is not accessible if you've made further modifications. Remove the custom ad blocker rule(s) and the page will load as expected.