Master Levels for Doom II
Talk

10
2,843pages on
this wiki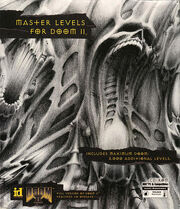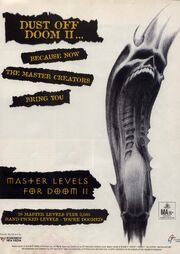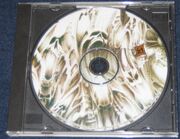 The
Master Levels for Doom II
was released on
December 26, 1995
by
id Software
as an expansion pack for
Doom II
. It was also included as a bonus on the
Doom 3: Resurrection of Evil
Xbox
game disc in 2005 (which included significant differences from the original PC version). The
PlayStation
version of
Final Doom
includes 13 levels from the Master Levels. It has been re-released for PlayStation 3 inside the "Doom Classic Collection" PSN package on November 20th 2012 along with
Final Doom
and
No Rest for the Living
.
The CD contains twenty WAD files created by various authors under contract. The file teeth.wad contains a secret level, so there are a total of 21 levels.
As a bonus, a poster and 1830 amateur PWAD files downloaded from the internet (collectively called Maximum Doom) are also included. Also of note is that some of the contracted designers for the Master Levels had levels they had previously released on the internet that were included in Maximum Doom.
Master Levels Menu Interface
Edit
The Master_Levels_Menu_Interface at the ZDoom wiki is a 2010 ZDoom WAD created by Zippy which is designed to replicate the menu functionality of Doom-It in-game and allow all 21 levels to be played without restarting the engine each time. Once the WADs are added, the Menu Interface can be loaded in ZDoom, and used to play each WAD at any skill level in whichever order the user wants; they will be returned to the menu each time they complete a level.
External links
Edit