Ad blocker interference detected!
Wikia is a free-to-use site that makes money from advertising. We have a modified experience for viewers using ad blockers

Wikia is not accessible if you've made further modifications. Remove the custom ad blocker rule(s) and the page will load as expected.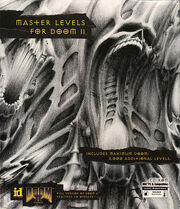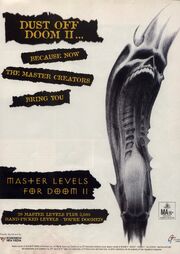 Master Levels for Doom II
was released on
December 26, 1995
by
id Software
as an official expansion pack for
Doom II: Hell on Earth
. It was also included as a bonus on the
Doom 3: Resurrection of Evil
Xbox
game disc in 2005 (which included significant differences from the original PC version). The
PlayStation
version of
Final Doom
includes 13 levels from Master Levels for Doom II. On November 20, 2012, Master Levels for Doom II was released for the PlayStation 3 as part of the
Doom Classic Complete
PSN package, along with
The Ultimate Doom
, Doom II,
No Rest for the Living
, and Final Doom for a total of 162 levels.
The CD contains 20 WAD files created by various authors under contract. The file TEETH.WAD contains a secret level, so there are a total of 21 levels.
As a bonus, 1,830 amateur custom PWAD files downloaded from the Internet (collectively called Maximum Doom) and a Master Levels for Doom II poster are included. Version 5.9c of the Doom-It tool, created by Chris Badger, is included as well. Also of note is that some of the contracted designers for the Master Levels had levels they had previously released on the Internet that were included in Maximum Doom.
Master Levels for Doom II is available on Steam, either as part of the Id Super Pack or separately. However, Maximum Doom is not.
In the PSN release, the Master Levels are ordered in a sequence to form a 21-level episode.
Plot and Setting
The main story involves a U.A.C. Marine accidentally lost on Titan, the moon of Saturn.
Levels
Level Order (PSN Release)
Level 1: Attack
Level 2: Canyon
Level 3: The Catwalk
Level 4: The Combine
Level 5: The Fistula
Level 6: The Garrison
Level 7: Titan Manor
Level 8: Paradox
Level 9: Subspace
Level 10: Subterra
Level 11: Trapped on Titan
Level 12: Virgil's Lead: 3rd Canto of Inferno
Level 13: Minos' Judgment: 4th Canto of Inferno
Level 14: Bloodsea Keep
Level 15: Mephisto's Maosoleum
Level 16: Nessus: 5th Canto of Inferno
Level 17: Geryon: 6th Canto of Inferno
Level 18: Vesperas: 7th Canto of Inferno
Level 19: Black Tower
Level 20: The Express Elevator to Hell
Level 21 (secret level): Bad Dream
Master Levels Menu Interface
The Master_Levels_Menu_Interface at the ZDoom wiki is a 2010 ZDoom WAD created by Zippy which is designed to replicate the menu functionality of Doom-It in-game and allow all 21 of the levels to be played without needing to restart the engine each time. After the WADs are added, the Menu Interface can be loaded in ZDoom and used to play each WAD at any skill level in whichever order the user wants; they will be returned to the menu each time they complete a level.
Sources
External links