This level occupies the map slot E1M1. For other maps which occupy this slot, see Category:E1M1.
Megawatt (MEGAWATT.WAD) is a single-level PWAD designed by Casey Miller. It was originally released April 3, 1994, and stood out from its contemporaries due to its size and difficulty. A revised version with bug fixes and difficulty settings followed a few weeks later (that file's time stamp is April 18).
Megawatt appears on Maximum Doom as MEGAWAT2.WAD, E1M6 of EP4B.WAD, E1M7 of NEWDOOM.WAD, MAP10 of #1DWANGO.WAD, MAP01 of DEATHM2.WAD, E3M6 of DMATCH42.WAD, MAP05 of E132.WAD, MAP05 of LORD2.WAD, MAP08 of NEWHITS2.WAD, and MAP17 of WADPAK12.WAD.
Walkthrough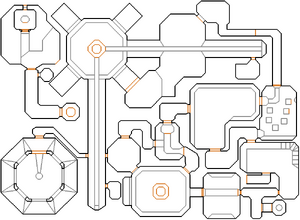 Letters in italics refer to marked spots on the map. Sector numbers in boldface are secrets which count toward the end-of-level tally.
Essentials
Other points of interest
Secrets
(sector 2)
(sector 15)
(sector 49)
(sector 51)
(sector 52)
(sector 151)
Bugs
Demo files
Areas / screenshots
Speedrunning
Routes and tricks
Current records
The records for the map on the Doomed Speed Demos Archive are:
Miscellaneous demos
| Run | Time | Player | Date | File | Notes |
| --- | --- | --- | --- | --- | --- |
| * | | | | | |
Deathmatch
Statistics
Map data
Things
Megawatt contains the following numbers of things per skill level:
Technical information
Inspiration and development
Trivia
See also
Sources
Ad blocker interference detected!
Wikia is a free-to-use site that makes money from advertising. We have a modified experience for viewers using ad blockers

Wikia is not accessible if you've made further modifications. Remove the custom ad blocker rule(s) and the page will load as expected.