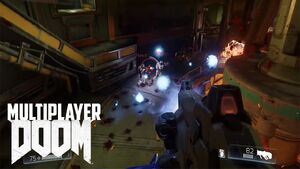 Multiplayer mode is a term used to represent a game in which multiple players participate simultaneously. The re-launch of Doom (2016), in addition to the traditional campaign mode, also offers the possibility of playing online in multiplayer competitions.
The developer id Software has partnered with Certain Affinity to develop the multiplayer part of the new Doom. It is not the first time that Certain Affinity has partnered with a well-known studio to work exclusively in the multiplayer segment of a game; the studio has contributed to the multiplayer development of Halo: The Master Chief Collection, Call of Duty: Ghosts and Halo 4, among others.
Game modes
The possible multiplayer game modes are the following:
TDM (Team Deathmatch)
Soul Harvest (a variation of Deathmatch)
Clan Arena (wins the last man standing team)
Freeze Tag
Domination
Warpath (modification of King of the Hill, moving the control point)
Playable demons
Players can pick up a five-pointed star, called Demon Rune, to become a demon for a limited amount of time. The player can not collect health bonuses or other power-ups while playing as a demon.
Weapons
All weapons present in campaign mode are also available in multiplayer, except the Pistol. But weapons that are exclusive to MP mode have also been added.
See also
Ad blocker interference detected!
Wikia is a free-to-use site that makes money from advertising. We have a modified experience for viewers using ad blockers

Wikia is not accessible if you've made further modifications. Remove the custom ad blocker rule(s) and the page will load as expected.