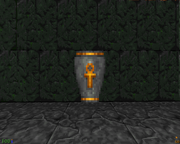 The
Mystic Urn
is an artifact in
Heretic
and
Hexen
. It looks like a grey urn with a golden
ankh
on it. Using a Mystic Urn restores the
player
to full
health
. Unlike
Doom
's
Soulsphere
, it can be carried around until needed, but cannot raise the player's health above 100, which makes it similar to the
Berserk pack
but without the pack's fist improvement power. On skill 1, the Mystic Urn is sometimes used at death, preventing you from dying.
Ad blocker interference detected!
Wikia is a free-to-use site that makes money from advertising. We have a modified experience for viewers using ad blockers

Wikia is not accessible if you've made further modifications. Remove the custom ad blocker rule(s) and the page will load as expected.