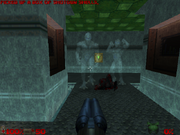 The Nightmare imp is a translucent blue/purple imp which is faster than the standard imp and is the first new monster encountered in Doom 64. It hurls purple fireballs which are faster than those of the standard imp.
---
Data
Attributes
ID #
400 (decimal), 190 (hex)
Hit points
60
Speed
14
Width
48
Height
64
Reaction time
8
Pain chance
50 (19.53%)
Mass
1000
Bits
4194310

Bits list

1: Obstacle

2: Shootable

22: Affects Kill

?: Rendered with Additive Translucency

Sprites & sounds
Sprite name
NTRO
Alert sound
DSBGSIT
Pain sound
DSPOPAIN
Death sound
DSBGDTH
Action sound
DSBGACT

Melee attack
Damage
3-24
Sound
DSCLAW

Ranged attack
Type
Projectile
Speed
16
Damage
3-24
Width
6
Height
8
Sprite name
NMBL
Sound
DSFIRSHT (firing)
DSFIRXPL (impact)
Ad blocker interference detected!
Wikia is a free-to-use site that makes money from advertising. We have a modified experience for viewers using ad blockers

Wikia is not accessible if you've made further modifications. Remove the custom ad blocker rule(s) and the page will load as expected.