Ad blocker interference detected!
Wikia is a free-to-use site that makes money from advertising. We have a modified experience for viewers using ad blockers

Wikia is not accessible if you've made further modifications. Remove the custom ad blocker rule(s) and the page will load as expected.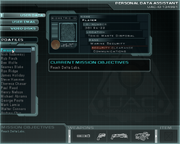 The PDA, short for Personal Data Assistant, is one of Doom 3 and Doom 2 RPG's most useful items. It acts as a media player, email reader, access key for restricted areas, and, in Doom 2 RPG, a mission log.
Besides the player's personal PDA, other PDAs are scattered around the infrastructures of Mars base. They can be picked up and scanned to read helpful hints (including backstory, hints to monster types ahead, and combination codes for lockers).
Some NPCs carry PDAs on them, and can be killed to collect them.
Secrets
External Links