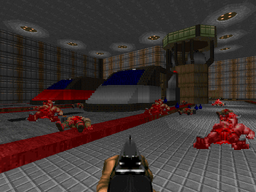 Phobos: Anomaly Reborn is a PWAD level set for The Ultimate Doom created by Christopher Lutz and released on January 2, 2003. The episode features a similar design as Lutz's other levels, with highly detailed and realistic environments. Examples of such include a moving train and a hangar with ships and transport rails. The episode was included in Doomworld's Top 100 WADs of All Time list.
Thematically the episode serves as a replacement of the first Doom episode. However, it is much more difficult than the original, with bigger puzzles and stronger enemies appearing earlier. For example, the baron of hell appears in the second level instead of first appearing as the episode's boss.
Levels
Ad blocker interference detected!
Wikia is a free-to-use site that makes money from advertising. We have a modified experience for viewers using ad blockers

Wikia is not accessible if you've made further modifications. Remove the custom ad blocker rule(s) and the page will load as expected.