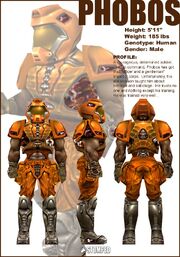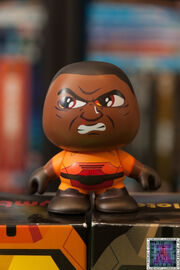 Phobos is a character from Quake III Arena. He is tied to the Doom universe storyline.
Background
An experienced veteran, he led the invasion of the demon-haunted tunnels of Phobos. There, he was betrayed by superiors who thought they could learn more from watching him die than by studying his reports.[1]
A courageous, determined soldier, used to command, Phobos has got that "officer and a gentleman" esprit d'corps. Unfortunately, his last mission taught him about betrayal and sabotage. He trusts no one and nothing except his training.
Phobosguy can be found in Doom sharing the same iconic color scheme (2016).
Behind the scenes
Phobos is probably based on the 4th player's reddish-orange color in the original DOOM's co-op mode.
A figure of Phobos was released along with the "Space Marine" from Doom as a ID/Doom/Quake related set by Symbiotes.
Ad blocker interference detected!
Wikia is a free-to-use site that makes money from advertising. We have a modified experience for viewers using ad blockers

Wikia is not accessible if you've made further modifications. Remove the custom ad blocker rule(s) and the page will load as expected.