Ad blocker interference detected!
Wikia is a free-to-use site that makes money from advertising. We have a modified experience for viewers using ad blockers

Wikia is not accessible if you've made further modifications. Remove the custom ad blocker rule(s) and the page will load as expected.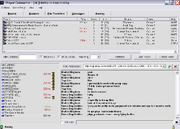 Player Connector
is a lobby-based online service for multiplayer matchmaking built upon the
Doom Connector
3 source. Although it is visually similar to
Doom Connector
, there are many major differences. Unlike DC3, there is no longer a single developer, but rather, a team of people (
Player Connector Staff
) and one lobby to support all games.
Weekly tournaments and events are held where players obtain points based on their scores. Each player has a running score, and a set icon according to their score. The system also includes new services such as Wadbot (a WAD file hosting/retrieval service) and the Quotebot.
Player Connector supports the following Doom source ports:
Many more games other than Classic Doom are supported. Current games supported include:
Blocktrix
Bloodmasters
Call Of Duty
Call Of Duty: United Offensive
Doom 3: Resurrection of Evil
Halo: Combat Evolved
Halo: Combat Evolved Demo
Medal Of Honor: Allied Assault
Moves
QuakeWorld
Quake 2
Quake 3
Quake 3 Demo
Quake 4
Quake 4 Demo
Return To Castle Wolfenstein
Return To Castle Wolfenstein Demo
Soldier Of Fortune 2
Soldier Of Fortune 2 Demo
Sonic Robo Blast 2
Tribes
Unreal Tournament (Game Of The Year Edition)
Unreal Tournament 2004
Wolfenstein: Enemy Territory
External Links