Psychophobia is a mod for Doom II, which works with GZDoom or Skulltag.
The game features: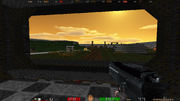 A laboratory (A place where the player can summon monsters and fight them or make them fight each other).
New HUD.
New Monsters (around 84).
New Weapons (around 30).
New Textures.
New Music.
New Sounds.
 Different playable characters:

 Psycho from Blood
 Caleb from Blood
 Voodoo from Heretic
 Train from Quake II

3D Weapons version where the weapons are completely 3D.
External Links
Ad blocker interference detected!
Wikia is a free-to-use site that makes money from advertising. We have a modified experience for viewers using ad blockers

Wikia is not accessible if you've made further modifications. Remove the custom ad blocker rule(s) and the page will load as expected.