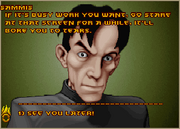 Sammis is a character from Strife. He's found inside the coolant area next to the main crystal room of the Power Station.
SPOILER WARNING: Plot details follow.
Sammis is a minor character of the game. He works as a high level technician in The Order's Power Station. When talked to, he provides a keycard for the elevator and also tells to flip the switches in order to find Ketrick.
Ad blocker interference detected!
Wikia is a free-to-use site that makes money from advertising. We have a modified experience for viewers using ad blockers

Wikia is not accessible if you've made further modifications. Remove the custom ad blocker rule(s) and the page will load as expected.