SMMU (Smack my Marine Up) is a source port created by Simon Howard. It began in 1998; development ceased in 2000. It is derived from MBF.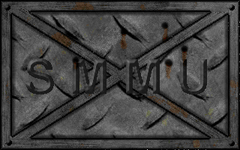 Features of SMMU:
Rewritten menu, heads-up display, and networking code
Quake-style "start map", courtesy of Derek "Afterglow" MacDonald
Windows, MS-DOS and Linux ports
Chasecam
Various demo features; e.g. the ability to walk around demos while they are playing
Text-mode rendering
"Swirling" effect on liquid floor textures, instead of original animated floors.
After the project was abandoned, the Eternity Engine emerged as a derivative of the SMMU codebase.
SMMU is licensed under the GNU GPL.
External links
Ad blocker interference detected!
Wikia is a free-to-use site that makes money from advertising. We have a modified experience for viewers using ad blockers

Wikia is not accessible if you've made further modifications. Remove the custom ad blocker rule(s) and the page will load as expected.