Ad blocker interference detected!
Wikia is a free-to-use site that makes money from advertising. We have a modified experience for viewers using ad blockers

Wikia is not accessible if you've made further modifications. Remove the custom ad blocker rule(s) and the page will load as expected.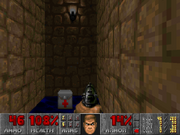 A stimpack is an item that appears as a small white box with a red cross (or, in later versions, small white box with a red/white capsule). Picking one up will increase the player's health by 10% up to a maximum of 100%.
Stimpacks are not included in the items percentage displayed at the end of each level.
Stimpack data
Thing type
2011 (decimal), 7DB (hex)
Appears in
Shareware Doom
Registered Doom
Ultimate Doom
Doom II/Final Doom
Radius
20
Sprite
STIM
Class
Item
Pickup
Appearance statistics
The IWADs contain the following numbers of stimpacks:
See also