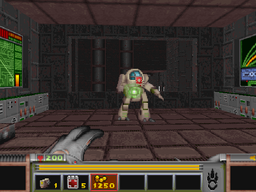 Templars are enemies from Strife. They are men in big, heavy suits with life support devices, each having 300 Hit Points. The templars need the suits to live.
Templars are armed with Maulers which are always set to the default firing mode. It is not possible to take one from a dead Templar, however. They also have "horns" which they use in melee attacks. Templars do not attack if the alarm is not active, and the player can talk them in the same manner as Acolytes, although they will usually boast about themselves or insult the player.
Ad blocker interference detected!
Wikia is a free-to-use site that makes money from advertising. We have a modified experience for viewers using ad blockers

Wikia is not accessible if you've made further modifications. Remove the custom ad blocker rule(s) and the page will load as expected.