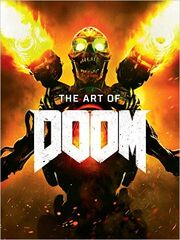 The Art of Doom is an art book based on the 2016 Doom game.
Description
From id Software, the studio that pioneered the first-person shooter genre and coined the multiplayer term Deathmatch, comes a massive art tome from the highly anticipated next installment of DOOM!
From the massive UAC facilities on Mars to the depths of hell, uncover never-before-seen sketches and concept art from DOOM. The book also features an exclusive look at the development of the relentless demons of hell, devastating, over-the-top weapons, as well as the iconic DOOM marine-- all accompanied by commentary from the developers themselves. The Art of DOOM is indispensible for fans of video games, visceral first-person shooter combat, and pulse-pounding action!
This is the companion Art book for DOOM, the latest installment of the Doom franchise, set for release May 13th 2016.[1]
References
↑ Art of DOOM, Amazon.com. Accessed on 2016-03-19
Ad blocker interference detected!
Wikia is a free-to-use site that makes money from advertising. We have a modified experience for viewers using ad blockers

Wikia is not accessible if you've made further modifications. Remove the custom ad blocker rule(s) and the page will load as expected.