Ad blocker interference detected!
Wikia is a free-to-use site that makes money from advertising. We have a modified experience for viewers using ad blockers

Wikia is not accessible if you've made further modifications. Remove the custom ad blocker rule(s) and the page will load as expected.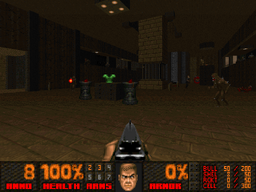 The Darkening Episode 1: The Nameless Project is a megawad for Doom II that contains twenty-two maps, split equally between single and multiplayer. It was released on January 7, 1999. A sequel, The Darkening Episode 2, was released the following year.
Levels
Singleplayer
MAP01: Scary
MAP02: Bloody Hell
MAP03: Entropia
MAP04: Relentless
MAP05: Hand of Doom
MAP06: The Mines of Death
MAP07: Dead Simple 2
MAP08: Discordia
MAP09: Military Complex
MAP10: Under Earth
MAP11: Stone Tyrant
Multiplayer
MAP12: The Spine of Evil
MAP13: Devil's Dungeon
MAP14: Fragmentation/Quake DM
MAP15: Relentless until death
MAP16: Sulphur
MAP17: Return to the Realms
MAP18: Valley of the Lost
MAP19: Vertigo
MAP20: Interrogation Central
MAP21: Death awaits 6-feet Under Earth
MAP22: Stone Tyrant
See also
External links