Ad blocker interference detected!
Wikia is a free-to-use site that makes money from advertising. We have a modified experience for viewers using ad blockers

Wikia is not accessible if you've made further modifications. Remove the custom ad blocker rule(s) and the page will load as expected.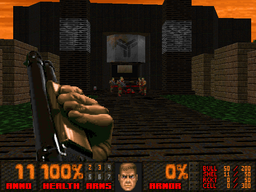 The Darkening Episode 2 is the sequel megawad to 1999's The Darkening. This new episode features twenty-four levels split equally between single player and deathmatch modes. It was released on August 5, 2000.
Levels
Single player
MAP01: Outpost Mortem
MAP02: Biotech Terror
MAP03: Binary Compound
MAP04: Vindication
MAP05: Melt-Down
MAP06: At The Heart Of Decay
MAP07: Waste Processing
MAP08: Lucifer's Laboratory
MAP09: Hard Core
MAP10: Plasmorgasm
MAP11: Powerplant
MAP12: toxicity
Deathmatch
MAP13: outpost mortem
MAP14: Mortal Mayhem
MAP15: Broken Circuit
MAP16: deva station
MAP17: Magic Roundabout
MAP18: An Eye For An Eye
MAP19: Tight Fight
MAP20: Annihilator
MAP21: rest in pieces
MAP22: The Edge
MAP23: banger hangar
MAP24: Interrogation Central II
See also