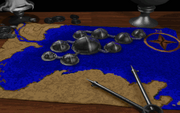 The Dome of D'Sparil
is the final episode of
Heretic
. After killing the
Maulotaurs
at
The Portals of Chaos
in
Hell's Maw
,
Corvus
enters a giant portal to an ancient castle at the bottom of the abyssal ocean, protected by gigantic crystal domes and inhabited by many monsters. This is
D'Sparil
's strongest fortress, for it is where he resides. Aside from D'Sparil and his
Green Chaos Serpent
, the only new monster introduced is the
Ophidians
.
Levels are themed to look like the interiors of opulent castles and temples. There are numerous water pools and canals running through all the domes.
Sky Color: Blue
Levels
Ad blocker interference detected!
Wikia is a free-to-use site that makes money from advertising. We have a modified experience for viewers using ad blockers

Wikia is not accessible if you've made further modifications. Remove the custom ad blocker rule(s) and the page will load as expected.