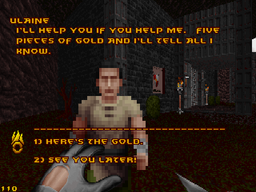 Ulaine is a character in Strife. He is met in the town, to the left of the prison (just behind the town hall). He tells the player he will help if the player helps him.
If you give him the money he wants (5 pieces of gold for each information), he will give you tips on how to avoid alarms, such as being stealthy and using poison arrows.
He does not influence the plot in any way.
Ad blocker interference detected!
Wikia is a free-to-use site that makes money from advertising. We have a modified experience for viewers using ad blockers

Wikia is not accessible if you've made further modifications. Remove the custom ad blocker rule(s) and the page will load as expected.