Ad blocker interference detected!
Wikia is a free-to-use site that makes money from advertising. We have a modified experience for viewers using ad blockers

Wikia is not accessible if you've made further modifications. Remove the custom ad blocker rule(s) and the page will load as expected.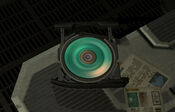 Video Disks are a component of the PDA (Personal data assistant). They provide information concerning military procedures/ordnance, Mars Facilities' history/functions, and scientific discoveries/artifacts. There are fifteen disks in the Doom 3 Campaign, and an additional three in the Resurrection of Evil Campaign.
Doom 3
Marine Command Briefing
Welcome to Mars Research Facility One
Elemental Phase Deconstructor
Molecular Fuel Storage Compactor
Doom 3: Resurrection of Evil
MARS: Mission Goals & Safety
AM3 Series Portable Power Plant