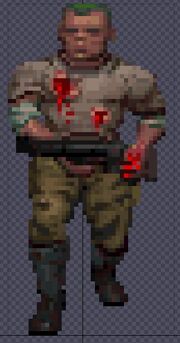 In Doom 64, they use a visual appearance that is similar to the Vanilla Doom looks, but instead their rifles look more like shotguns and their suits are colored blue-grey. They first appear in MAP01: Staging Area. Also, like in PlayStation Doom, their gunshots deal somewhat more damage than in previous versions (up to about 21 damage).
Ad blocker interference detected!
Wikia is a free-to-use site that makes money from advertising. We have a modified experience for viewers using ad blockers

Wikia is not accessible if you've made further modifications. Remove the custom ad blocker rule(s) and the page will load as expected.